Video articles with English subtitles:
The Vegan Trend Takes Over Prime-time TV in Israel

How the unprecedented vegan trend in Israel reaches prime-time television, all thanks to Gary Yourofsky's riveting speech, with an extensive 10 minute news item on Israel's most watched network! (Channel 2 news, July 14th, 2012)




The Vegan Trend Reaches National TV Again

The Israeli vegan revolution reaches national television once more, as Gary Yourofsky's life-changing speech continues to change people's hearts and minds. (Channel 1's "Yoman", March 22nd, 2013)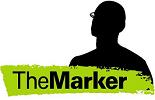 "One may say many things about Yourofsky, who has made waves and created disagreements throughout Israel. But it seems that the most powerful addiction of mankind, and certainly of Israelis – meat eating- has been undermined by his speech. It is not a trend. Neither is it a passing phenomenon. It is a new path, if not a revolution."
The Vegan Trend As A Marketing Opportunity – The Marker, January 27th 2013
Israel Becomes Vegan Friendly

Israeli businesses don't want to be left behind and change their menu/supply to get the Vegan Friendly certification, as more and more Israelis are becoming vegan. (Channel 2's "Economic Network", January 19th, 2014)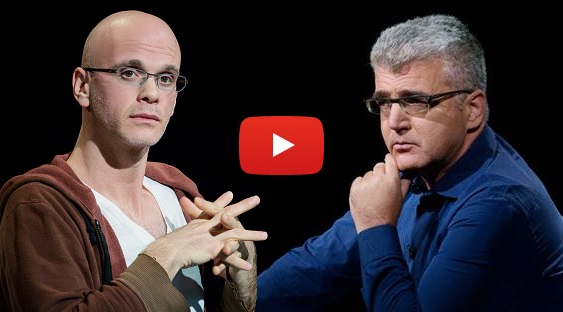 Gary Yourofsky's appearance in a prestigious interview show, "Hotze Israel". A fantastic interview with renowned interviewer, Kobi Meidan, on Israel's most watched channel (Channel 2, December 28th, 2013).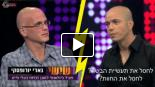 Gary Yourofsky's appearance on Israeli weekend Talk Show, "Friday with Tal Berman" (September 14th, 2012).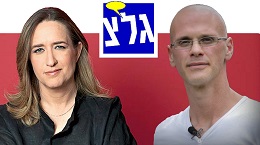 Israel's most renowned journalist, Ilana Dayan, interviews Gary Yourofsky on a very popular radio show.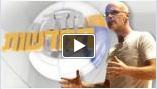 Hot Darom TV news report of Gary Yourofsky's lecture at Ben Gurion university in front of a packed house of 450 people (September 11th 2012, Beersheba).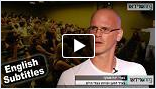 Israeli news site NRG's story covering Gary Yourofsky's speech, which he gave to journalists at Zionist of America House (September 7th 2012, Tel Aviv).

Israel's most renowned international singer, Achinoam Nini (aka Noa), revealing how the speech "rattled the foundations of her soul" and inspired her to gradually go vegan.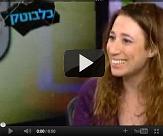 Ori Shavit, the renowned food critic, who went vegan overnight after watching the speech, talks all about it in Israel's central news channel.

Extended profile in Haaretz magazine, the most reputable weekend magazine in Israel – August 3rd 2012:

So Human an Animal: Dr. Yuval Noah Harari talks with Gary Yourofsky in Haaretz magazine, the most reputable weekend magazine in Israel – October 25th 2013: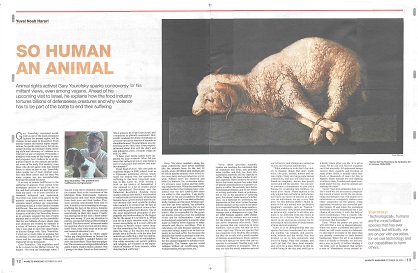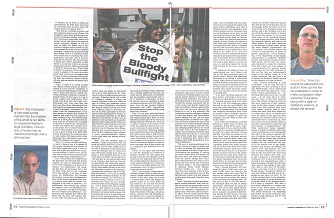 Click to read in English (if reading is not free of charge, read here.)

Two powerful articles by famous Israeli author, Eyal Megged, in Haaretz Daily Newspaper, one of the popular daily newspaper in Israel – September 7th 2012 & January 3rd 2014:
(Click on the links to read in English)

Nature Power – a major article in Yedioth Ahronoth, the most popular daily newspaper in Israel, about Gary Yourofsky's success in Israel and his second visit to Israel – December 5th 2013: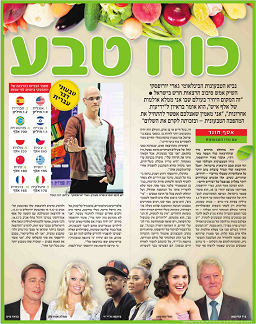 Stories in Time Out Tel-Aviv and Time Out Israel, the biggest local newspaper of Tel Aviv – June 14th 2012, July 5th 2012, December 12th 2013:
Major article in the most popular newspaper in Israel, 7 Days – the weekend supplement of Yedioth Achronot – June 29th 2012:

Cover story in Time Out Tel-Aviv, the biggest local newspaper of Tel Aviv – December 1st 2011:

Back Cover story in Calcalist, one of the two leading financial newspapers in Israel – February 15 2012:

Stories in Zman Jerusalem and Zman Tel-Aviv, major local newspapers in Israel – September 14 2012:

Other newspapers: