Gary Yourofsky's talk about the reasons to stop eating meat took Israel by storm. A local initiative is trying to raise donations to bring him to Israel for a series of talks
Even if you are not (yet) vegetarians or hardcore vegan, you've probably heard about Gary Yourofsky, the Che Guevara of animal rights.
Yourofsky, an animal rights activist, gave a talk in 2010, which since then has become a viral hit and in the past year one of the most watched videos in the world, about the devastating consequences of eating meat.
Yourofsky's talk (one hour and ten minutes long!) is the most watched talk in Israel in YouTube history.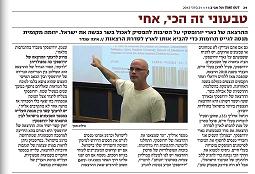 Daniel Erlich (33), an actor and animal rights activist, relentlessly works to bring Yourofsky, the vegan guru, to Israel for a series of talks. "My friends and I have been trying to expose the public to short videos about animal rights for several years now. We tried to find the right way to get to the heart and the reason of the Israeli people, but we never got enough substancial feedback on their impact." says Erlich "Until we found Yourofsky's talk, we started to spread it around the net and the reactions were amazing. Thanks to the popularity of the video our Youtube videos now have more than 1,000,000 views." He says that "Yourofsky expressed willingness to come to Israel and right now we are trying to get the needed amount to funds for the flight and his stay in Israel. If there are readers who want to help rais the money, we will be happy if you contact us through the website gary-tv.com. It is important to emphasize that Yourofsky volunteers get to see his talks for free."
Why do you think Yourofsky's talk is so popular?
"I think that the key is the combination between Yourofsky's rare charisma and the huge personal pain he has in his heart after seeing all the sights he was exposed to during years of field work. Yourofsky gets viewers to feel empathy in a way that no other educational tool or talker could".
Do you think that there is a link between the increase in numbers of vegans in Israel and Yourofsky's talk?
"The link couldn't be more obvious. Yourofsky's talk is THE cause of the vegan revolution that is happening in Israel. In Facebook you can see a huge number of positive comments about the talk, an increase in the number vegan group members, and a growing media interest in the issue".